Return to Headlines
The Falcon Flyer 06/05/2023
Falcon Families,
Thank you to Brooke Owenby-Kennedy for her leadership of the 8th grade PTSA celebration! Our students had a wonderful evening on Saturday because of her dedication to this event. The celebration could not have happened without the support of so many family and staff volunteers, from the Friday night set-up team to the Saturday afternoon set-up team to the Saturday night take-down team. Thanks to everyone who helped with this culminating event for our 8th grade students!
Thanks also to Mrs. Brownlee, the 8th grade teachers, and our chaperones for their dedication to Friday's Busch Gardens trip! Our students received many compliments on their behavior and represented YMS well.
Brian R. Fries
Principal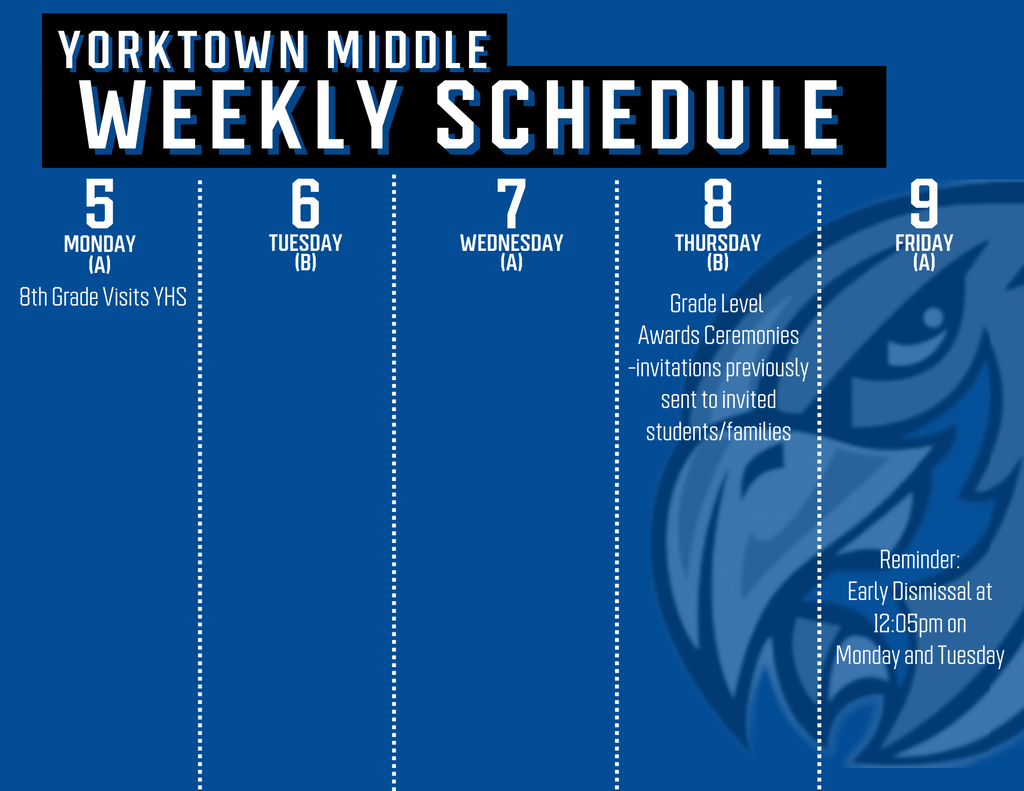 Clinic Update from Nurse Foster
It's almost the end of the year! That means it is time to make plans for picking up any mediations your student has in the YMS clinic. We are not able to send any medication home with students. Medication not picked up will be destroyed per YCSD policy. All medication must be picked up by the last day of school, Tuesday, June 13th by 1:00PM.
If your student has other items in the clinic (snacks/supplies/clothes/etc.), please remind them to come to the clinic to pick them up before dismissal on the last day of school or the item will be disposed of. We are able to send those items home with students. No items are kept in the clinic over the summer break.
Have a wonderful summer!
Devices
All students returning to YCSD will keep their division-issued devices and chargers over the summer. This includes our 8th grade students who are leaving YMS. This also includes students who were turning their devices into the office each day before leaving school.
Devices for students leaving YCSD will be collected on Friday, June 9th. Please make sure your student brings the assigned device and charger to school on Friday if your student is not returning to a YCSD school next year. Additionally, Friday, June 9th, is the last day the main office will be loaning out devices for daily use.
Lost and Found
Please encourage your student to check lost and found this week for any missing items. All items unclaimed by the last day of school will be donated.
Sports Physicals for 2023-24