Return to Headlines
Coventry Updates to Families
Emailed to families on October 31, 2021
Good evening, Coventry families,
As October and the 1st quarter of the school year draw to a close, please read below for several important reminders and updates.
Brian R. Fries
Principal
Boosterthon
The PTA Boosterthon experience began on Thursday with our kick-off pep rallies in each grade level and culminates with our outdoor fun run on Friday, November 5th. Funds raised from Boosterthon support students, staff, and PTA programs throughout the school year and we have a special goal this year of purchasing a book vending machine for use by students. We encourage you to donate if you are able to; however, all students will be able to participate in the fun run regardless of donations received. Please contact coventrypta@gmail.com with questions.
Bus Stop Arrival
As stated in the YCSD Student Handbook, students should arrive at the bus stop at least 10 minutes prior to the designated pick up time. This helps our drivers pick up early if they need to go back out to pick up another run. Additionally, students should remain at the bus stop 15 minutes beyond the designated pick up time in the event that a bus is running late.
Calendar Reminders
-Tuesday, November 2nd, is a student holiday/teacher workday.
-Thursday, November 11th, is a student holiday/teacher workday. This is a change which was communicated by the division on Wednesday, 10/27.
-Monday, December 6th, is an early release day at 1:00pm. This is a change which was communicated by the division on Wednesday, 10/27.
Report Cards
Report cards will be sent home with students on Wednesday, November 10th. Please make sure to sign the report card envelope and return it to school with your student on Friday, November 12th.
Emailed to families on October 10, 2021
Good evening, Coventry families,
This is an exciting week at Coventry as our book fair begins! Students will have the opportunity to visit the book fair during their regularly-scheduled library classes. Please review the PTA Corner below for additional book fair information.
Brian R. Fries
Principal


Bullying Prevention Month Activities
The attached Bullying Prevention Month flyer was sent home with students last week. Please note the spirit week activities that begin next Monday (October 18th).
COVID-19 Information
We received notice that 6 members of the Coventry community tested positive for COVID-19 over the last week. This information is updated daily on the division's COVID-19 Dashboard. Staff members have notified all individuals who were identified as close contacts, as defined by the Virginia Department of Health, to follow quarantine protocols. If you have not been contacted personally, your children were not considered close contacts. Information regarding contact tracing and quarantine requirements is available in the division's Safe Return Plan. All families are asked to continue conducting the Daily Health Screening each morning and to keep children home when they are sick, until they are fever free for 24 hours without the use of fever-reducing medication. If you have questions regarding the division's COVID-19 response plans, please contact me at bfries@ycsd.york.va.us or Nurse Stewart at mstewart@ycsd.york.va.us

As a reminder and as shared on the dashboard, all data reported in the YCSD COVID-19 Dashboard is based on the date the division receives notification of a confirmed case or a staff/student entering quarantine due to community exposure. (e.g. an individual receives diagnosis on Friday (9/3/2021) but reports the diagnosis to the division on Monday (9/6/2021), the dashboard is updated Monday with the new case but the date of the active case is reflected on Friday's date).
Interim Reports
Interim reports for students in 2nd-5th grades were posted to Aspen on Thursday, October 7th. The focus of the initial weeks of first quarter has been on transitioning students back to in-person instruction and assessing areas of unfinished learning. In some cases, a student's interim report may include a letter "V" which indicates that progress is still being monitored in this area. More information about students' academic performance will be provided during parent/teacher conferences and on the first quarter report card.
PTA Corner
The book fair is here! You can shop the Book Fair online HERE!
Book Fair Dates/Hours, October 11th-15th - M/W/Th: 8:30a-3:30p, Tuesday: 8:30a-7:00p, Friday: 8:30a-3:00p *Students ONLY can shop the Book Fair during school hours. Tuesday's extended hours will allow families to shop with their students after school. Keep in mind that there will be a limit of individuals allowed in the library at one time to maintain social distancing.
Volunteering at the Book Fair: To volunteer, click HERE! Don't miss out! There are still a couple spots open to volunteer!
Book Fair Forms of Payment: Cash (bring in sealed envelope or bag with student and teacher's name) or checks (payable to Coventry Elementary School) or E-Wallet (create here)
Donating Books to Teachers: Students may pick a book of their choice for their teacher OR check out their teacher's Wish List located in the library.
Special Education Advisory Council
The division's Special Education Advisory Council (SEAC) will have its next meeting on Tuesday, October 19th. Please

view the picture below for more information about SEAC.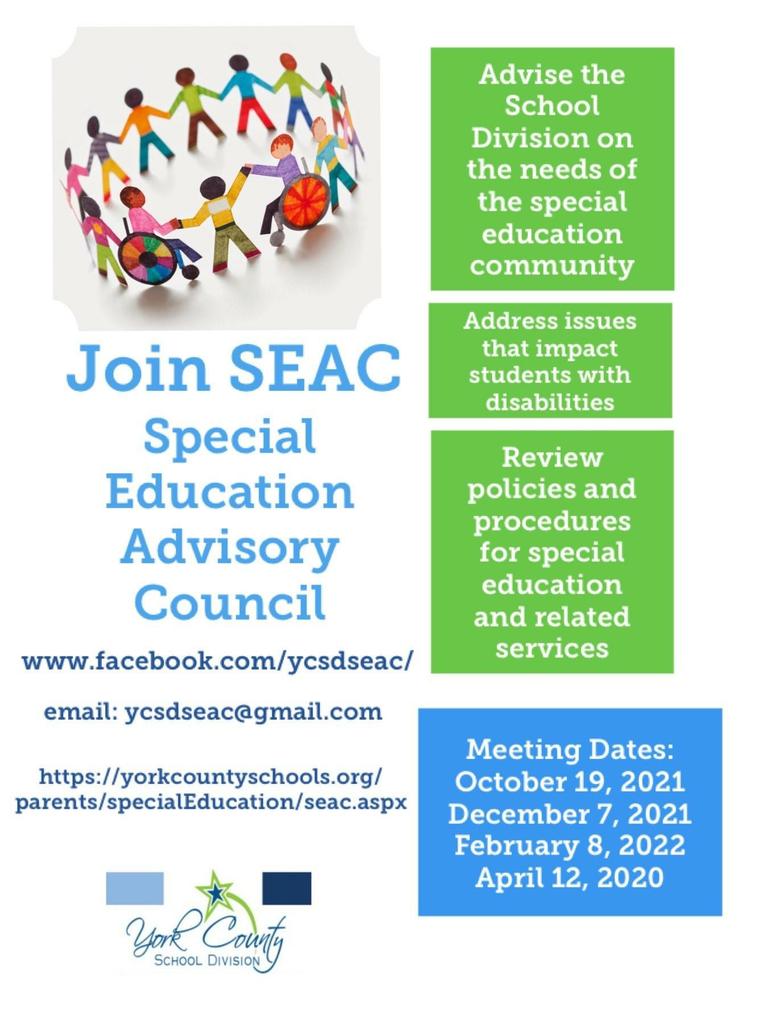 Emailed to families March 29, 2020
Good evening, Coventry families,
I hope that everyone is safe and healthy during this challenging time. I appreciate your patience, adaptability, and support as we navigate through this unprecedented situation. The emails I've received in the last 2 weeks describing the level of care and service provided by our staff have warmed my heart. Please know that our entire Coventry staff is committed to fully serving our students and community during this time. As Dr. Shandor shared last week, the school year is not over even though school buildings are closed. If you need assistance of any kind, please reach out to your student's teacher or to me so that we can link your family up with the appropriate resources.
Your student's teacher will communicate opportunities and methods for students to improve their 3rd quarter grades by the end of the day tomorrow (Monday, March 30th). These opportunities are being provided to all students, but students are not required to take advantage of them.
Families, if you have not yet activated your Aspen portal accounts, I strongly encourage you to do so. If you need assistance, please email tpatrick@ycsd.york.va.us so that your account information can be provided. Additionally, your student's teacher should have sent information about joining Remind. This is a division-supported communication platform that will be extremely important moving forward. Please make sure to activate your Aspen and Remind accounts as soon as possible.
Yearbooks are still available for purchase. If you would like to purchase a yearbook, visit www.candidcolor.net and select Yearbooks. Enter your access code (covYBK20) and click the yearbook sample. Fill out your student's information and add the yearbook to your order. Click your shopping cart to verify your order. Proceed to the checkout and pay by credit card. The new deadline date for purchase is April 16, 2020.
Finally, we are holding a virtual spirit week this week to lead up to Spring Break. If you choose to participate and wish to share, please post your pictures on our Facebook page (https://www.facebook.com/CoventryYCSD/) or share using the hashtag #PAWSitiveCougars on Twitter.
Again, we are here to support our families in whatever way possible. Please stay safe and healthy! We love you!
Brian R. Fries Principal
Emailed to families during the week of September 30th - October 4th
Good evening, Coventry families,

This is Mr. Fries with several reminders about upcoming events at Coventry.

We are asking all students and staff to wear blue tomorrow to support the World Day of Bullying Prevention. Additional bullying prevention activities are planned throughout the month of October.

Federal Impact Aid Survey cards will be distributed to students on Thursday, October 10th. Please make sure you complete and return the card for your student(s) as soon as possible.

All PTA Reflections entries must be submitted by Friday, October 11th, to be judged. Entry forms for this year's theme of "Look Within" can be found in the main office.

Please mark your calendars for the Scholastic Book Fair from October 14th through 18th. Students will have the opportunity to visit the Book Fair during their library resource time, as well as at other times throughout that week with teacher permission. The Book Fair will be open at 8:40am each day and will be open until 4pm on Monday, 8pm on Tuesday, 4pm on Wednesday, 6pm on Thursday, and 3pm on Friday.

Picture Day will be held on Tuesday, October 15th. Please refer to the flyer your student will be bringing home for additional information.

Finally, we are excited to hold our first PBIS incentive event this Friday as a reward for all of our students who have consistently demonstrated "PAWSitive" behavior this school year. Thank you for your continued support and for encouraging your students to follow our "PAWSitive" behavior expectations:
Practice Safety
Act Responsibly
Work Hard
Show Respect
Emailed to families on Sunday, September 22nd, 2019
Good evening, Coventry families!
This is Mr. Fries with a few important updates and reminders about upcoming events.

We are so excited to welcome our students and their families to our Back to School Nights this week. Back to School Night for students in PreK, Kindergarten, 1st, and 2nd grades will be held on Tuesday, September 24th, from 6:00-7:30pm. A PTA general membership meeting will be held at 6:00pm in the cafeteria, during which the budget vote will be held. An information session about the new Kindergarten standards-based report card will be held for families of Kindergarten students in the cafeteria immediately following the PTA meeting. Back to School Night for students in 3rd, 4th, and 5th grades will be held on Thursday, September 26th, from 6:00-7:30pm.
By last Friday, all parent pick-up students should have received their numbers and an informational letter from Mrs. Horton. If your student is a parent pick-up at dismissal and has not yet received a number, please contact Mrs. Horton for more information.
Grafton High School is hosting a Rising Clipper Night at their football game this Friday, September 27th, at 7:00pm at Bailey Field. Tickets for students who wear school spirit wear are $3 and all adult tickets at $7. Please join us for a fun night of football as Grafton takes on York.

The PTA bi-weekly communication is below the signature line in this email. Please read for important information from our outstanding Coventry PTA!

Thank you for your continued support as we teach our Cougars to show "PAWSitive" behavior by following these 4 expectations:
Practice Safety
Act Responsibly
Work Hard
Show Respect

Brian Fries
Principal
Coventry Elementary School
Note: Please check in the Headlines section for the PTA Bi-weekly posts.